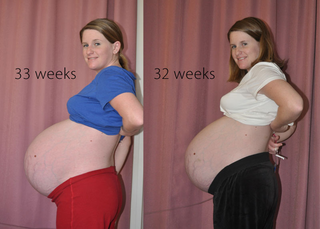 A belly comparison, it's grown a lot in just 1 week!
Day 64 in the hospital.
41 pound weight gain, belly measuring 48" around and 56 weeks pregnant.
Made it to 33 weeks, yay! I'm still chugging along trying to stay positive and occupy my mind. Just wish my back wouldn't hurt so much, it keeps me from sleeping and walking is becoming difficult (never thought I'd be saying those words). But the end is in sight and everything will go back to the way it was. My kiddos are here again for the weekend, for the last time before the big day! They are very excited to have their mommy back and enjoy the summer together. They all want to be here on the day I get released to see me leave through the doors and get into our car. It will be a wonderful happy day! I will be out in time for the 4th of July so we are making plans with my parents to find some local event to attend. It will be nice to not miss another holiday, I missed Easter, Mother's Day and Father's Day is tomorrow.
I'm anxious to see how much the babies will weigh. I've read some stories of quads born at 34 weeks that were born between 4.5-5 pounds and only spent days in the NICU not months or weeks. I'm guessing that's how big these little ones will be! What a relief I already feel knowing I've done a good job and have done my best to give these babies a good start in life.