Day 46...
Still nothing exciting here. Lots of new bed rest mommas have been admitted in the past few days here. I feel so bad for them.
I'm looking forward to Friday...31 weeks! That will 7 weeks in the hospital. I'm settled into a routine here and most of the nurses know me so the day goes by with ease. Sometimes I feel like this will never end, I here of ladies due after me come and deliver and go home already. I know the best place for the babies is in my belly but I feel so frustrated sometimes. I am grateful there are no complications and nothing seems to stopping us from getting farther along. In my head, I'm set at 34 weeks but my IM is pushing for farther, 35 weeks. I understand her reasoning but my body is already tired and doing more than it should. Plus, 10 weeks of mag is enough! I think I've given all I can them. At this point all I care about is the babies health and mine. Others can judge, put in their opinion but it's my body, my life that's being stretched so thin. I hate complaining or being negative but I just feel so beat down sometimes, like nothing I do will ever be good enough. I never wanted this experience to make me feel like I failed or wasn't good enough. I think what I'm doing, have done is really hard and hopefully nothing as hard will come my way again. I just can't wait to get out of here, I want to sit in a car, open the window and feel the air on my face. I want to smell the clean laundry my kids wear and lay in bed with them. I want to paint their nails, do crafts, go swimming, ride bikes, see a few good movies at the theatre....I 'm ready for my life back! All in all, I know this is my body and I decide what happens. The doctor promised 34 weeks and I'm standing strong with that! Sorry to disappoint but I've made up my mind!
***UPDATE***
Just saw the doctor. After feeling pretty down, I pressed him to give me a definite date for delivery. He'll be out of town on the day I turn 34 weeks so we settled for Monday June 27th...34 weeks 3 days. Hope that's good enough for my IM but at this point it will have to do, I'm already so mentally and physically strained. I am going to let her know this afternoon.
26 more days to go!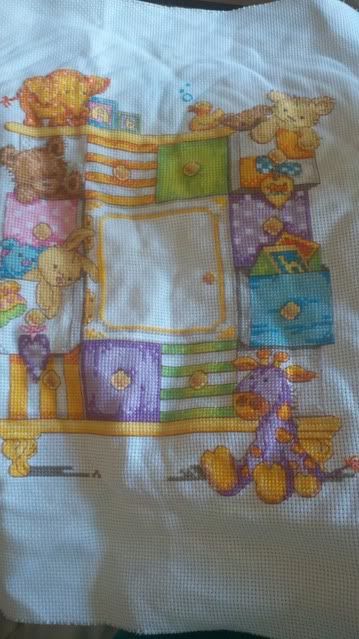 My first completed counted cross stitch project for the babies...3 more to do!