Made it another week...14 days in the hospital.
After a few hard days mentally, I feel better. Had a nurse I didn't care for 2 days in a row, she made things worse. Hope she doesn't have me again anytime soon.
I get to shower every other day and if things go well (no terbutaline shots) I get to take a wheel chair ride outside. The kids were here the other day when i went outside for the first time, they loved overseeing the big event. It felt amazing to feel the sun on my skin and breath the warm air. I felt renewed!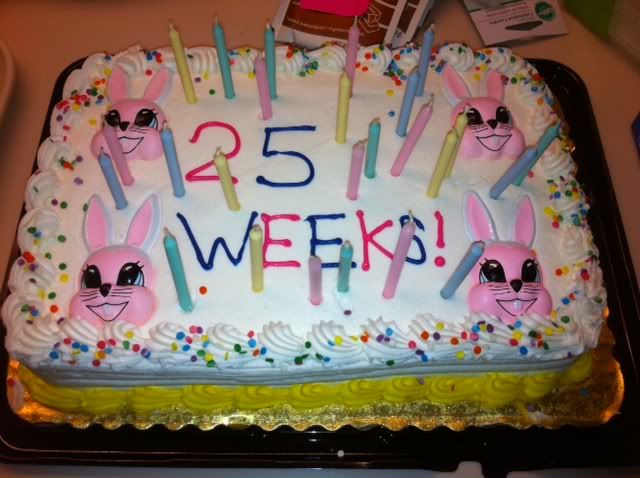 Our 25 week celebration cake...and Easter :)
I thought I was on a quiet streak with my contractions but the frustrations continue. The doctor did the second fetal fibronectin test the other day, came back positive, not a good thing but not completely predictive. Studies show out of quad pregnancies 35% deliver or go into preterm labor. But we have lots of medication options to fend it off if that happens. The doctors haven't waivered in their attitudes about getting close to our goal of 34 weeks.
Today my contractions spiked again...9 in 45 minutes so they upped the magnesium to 2.5 ml/ hour and gave me a terbutaline shot. I don't feel any different and so far haven't had any side effects from these lower mag levels. The terb is also very tolerable and only makes me a little jittery for about an hour. So far so good.
The next major goal is 28 weeks but we're all certain I'll get way past that. So far no swelling or elevated blood pressure. I lost some weight once being admitted but have gained back those 4 pounds plus 2, not great but alright. 39 pound gain so far.
Won't have another growth scan for 3 more weeks. Glucos test scheduled for whenever I don't have a terb shot...apparently that interferes with getting accurate results.
Pray for another few weeks of pregnancy...