Sorry for lack of posts!
I've been selfish with my time and spending it all with my kiddos and hubby. It's so wonderful to be home, free and driving. I'm taking it slow but feeling great. I love having my body back and have already reached my
pre
-pregnancy weight. I think the babies really took a lot more from me than I realized but I'll get it back! :) I wished they'd taken this ugly hanging belly "shelf" I have above my incision! I was surprised by how I felt after the
csection
, never had one before, it took me at least 4-5 days to feel like I could move around comfortably. Luckily, I had my mom and dad's constant help, couldn't have done it without them! But soon after that, I felt myself again. I honestly thought being on
bed rest
for so long would make it difficult to stand and walk after the babies were born but the only thing that slowed me down was how my belly felt. I've been pumping like crazy and have been able to stay ahead of what the babies are eating but I'm certain that will soon change as they grow and eat more.
We are going to be moving back home in a few weeks...
soooo
excited! My hubby had to start working again about a month ago so I've been here alone with the kids since the babies came. It's great but sometimes overwhelming. It was strange being a parent again and having to re-teach them that I do have authority, just like I did before. I do notice I get tired easier than I used to but that will get better once I can
exercise
and such. They have been really helpful and understanding through this whole process but especially now. I think they're just happy to have their mommy back and are happy with anything we do, big or small.
We purchased our first travel trailer the other day! We are so excited, I grew up camping and I can't wait to start our own traditions and memories. We've done lots of trips in the past but now we finally have our own things and equipment.
Ahh
, what a bright future we have ahead of us. I love my family!
My mom and dad are leaving on Friday to restart their full time
RVing
adventures. We usually don't see them for many months at a time so we're pretty sad to see them go. Especially after having the
opportunity
to spend so much time with them over the past 7 months. But, I know they are excited and I'm happy for them. Enjoy!
Mmmwwah
!
Now onto the babies...here's the breakdown
4 are breathing on their own, no assistance (most since birth)
2 have graduated to open cribs...next step, home!
1 suffered a brief
NEC
infection but was reintroduced to my milk today. Still growing and doing well but will have to catch up to the others' progress
1 was the smallest of the bunch but is eating a growing well
4 will go home when they have graduated to open cribs and do not have an apnea episode in 48 hours
4 are taking bottle feedings and spend their days doing kangaroo care with my
IPs
.
They are all loved and adored by their parents who haven't left their side since they were born. They get to do kangaroo care with 2 at a time so they can touch and see each other. My
IM
is loving this new life and has
truly
embraced her new future raising quadruplets. They are lucky babies to have the parents they have.
It's interesting how things change you, change your future and your state of mind. We're all on our own paths but when they cross, everything changes. I've learned many things from this journey but the thing that stands out the most is being grateful.
GRATEFUL for my family that stood by my side, never wavering, never frustrated or angry
GRATEFUL for the
opportunity
this created for my family to do the things in life that will bring us closer together, things that wouldn't be possible otherwise.
GRATEFUL for friends who were always there with supportive words and funny reminders.
GRATEFUL for God for giving me and the babies the strength and endurance to be successful.
Wow, I guess the hormones are really out of
whack
! I'm crying up a storm over here!!! :)
Thanks to all my followers who never stopped checking in on me!
Pictures...
THE ESCAPE from the hospital, 2 days after the babies were born: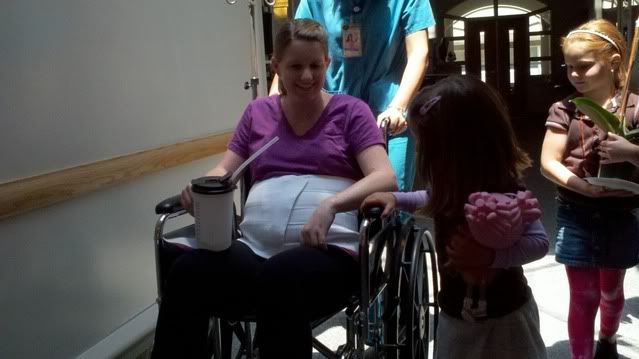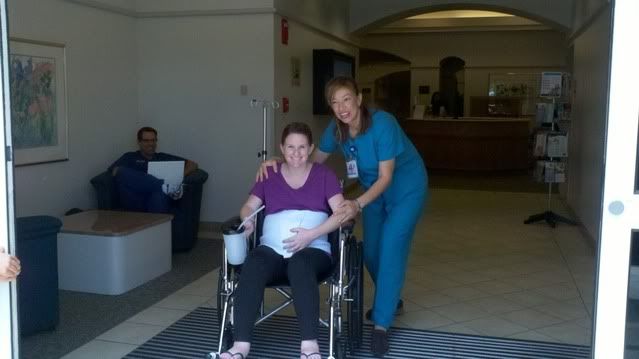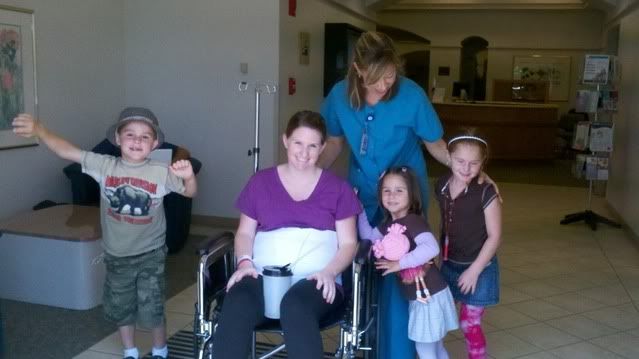 Our new trailer (me 2 weeks post-partum)